My next door neighbor brought a brown rice dish similar to this one to our bbq a couple weeks ago, and I legit devoured it. It was one of those awkward moments where you feel bad that you're eating too much of what your guest brought, because they won't have any leftovers (oops). I often crave brown rice. I love the nutty flavor, and it feels so gentle and cleansing on my body. I usually make it plain with a little Himalayan sea salt and ghee.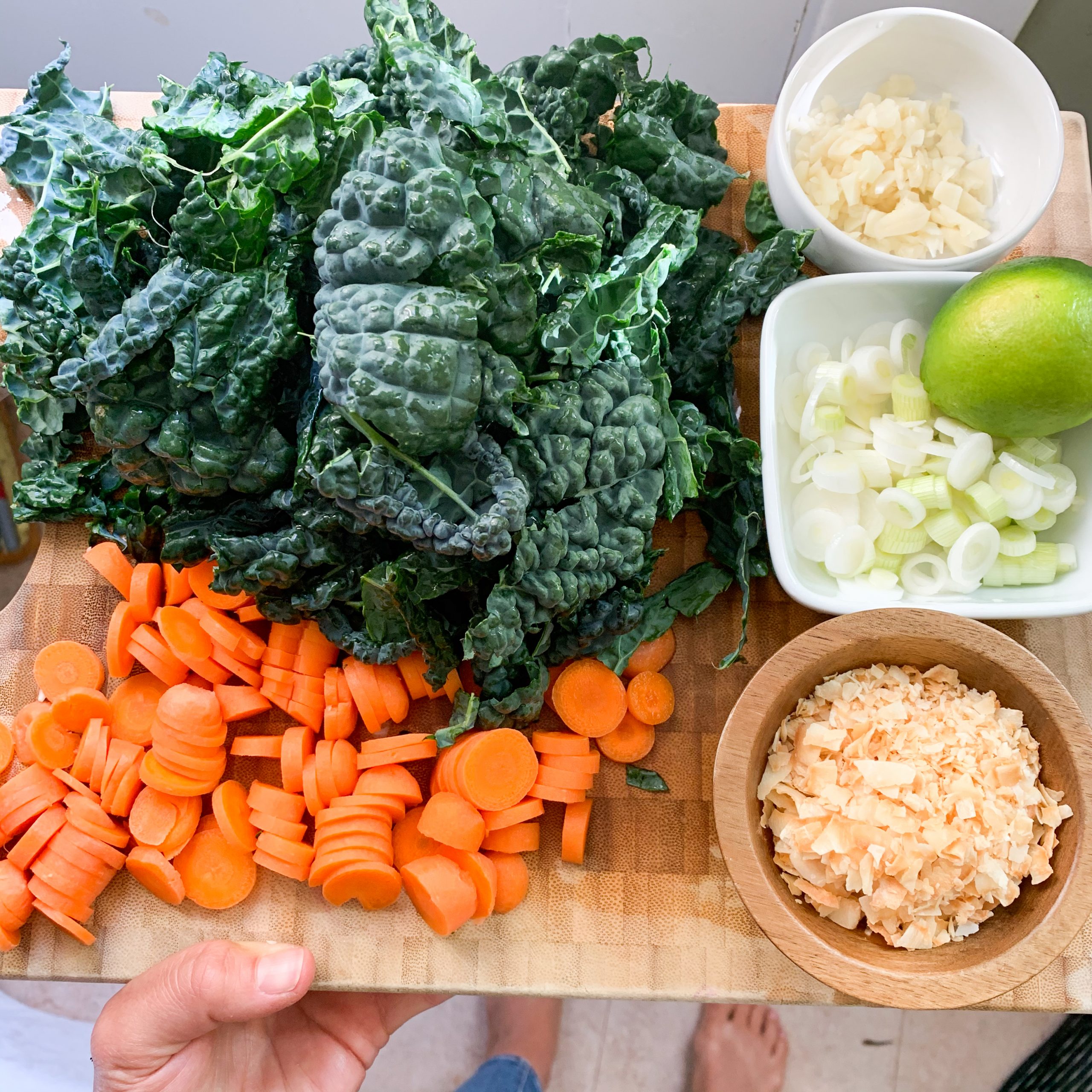 This recipe is more like a meal in itself. I had it for leftovers for lunch the next day with some greens and canned chickpeas. And what's great is you can vary it each time. I realize this is a long list of ingredients – much longer than I'd typically attempt – but it's a meal that makes for lots of leftovers, and for that I'm willing to spend a little more time in the kitchen.
Please let me know what you think!
Recipe adapted from www.cookieandkate.com.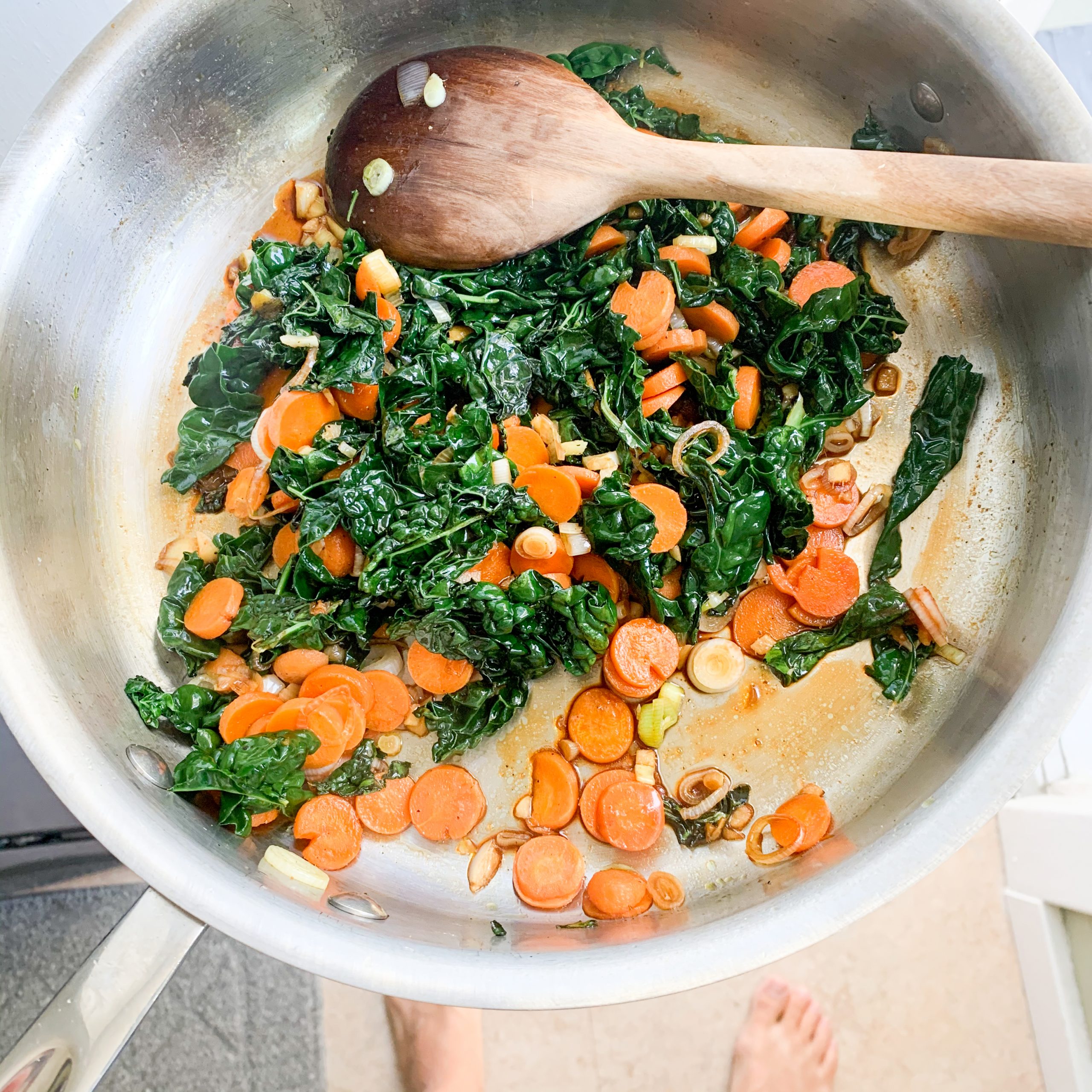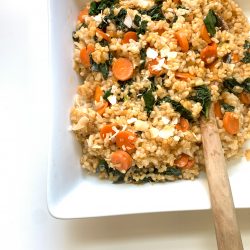 Toasted Coconut Rice with Kale
A healthy take on fried rice, this one's filled with flavor and nutrition.
Ingredients
2

cups

short grain brown rice

2.5

cups

water

1

tbsp

coconut oil

1/4

tsp

salt (I use Himalayan Pink Salt)

1/4

cup

coconut flakes

2

tbsp

avocado oil

3

carrots

1

bunch of kale

1/4

cup

chopped almonds (optional, but lends crunch)

2

scallions

3

cloves garlic

1

inch

piece of ginger

1/4

cup

Tamari (or soy sauce)

1

tsp

sriracha (optional; use less or omit if kids are eating)

1/2

lime, juice and zest

salt + black pepper (to taste)
Instructions
Add rice, water, coconut oil, and salt to instant pot. Set to 'sealing' and 'high pressure' for 22 minutes. (Or cook on stovetop according to package instructions.) While rice cooks, prepare the rest.

Spread coconut flakes onto a pan lined with foil. Toast in toaster oven or broil in oven 2-4 minutes until golden brown. Watch it so it doesn't burn.

Prepare the veggies: Dice the carrots. Tear the kale from the stems and roughly chop. Thinly slice scallions. Mince garlic. Peel ginger with a spoon and mince. Chop the almonds. Zest the lime.

Heat a large pan over medium-high heat. Once hot, add avocado oil, add carrots and sauté 5-7 minutes.

Add kale and almonds, season with salt and pepper, sauté 3 minutes.

Add, garlic, ginger, scallions, Tamari, and sriracha. Sauté 1 minute.

Turn off heat and add mixture to rice.

Add coconut, lime juice and lime zest. Taste and add salt if needed. Stir and pour into serving bowl.