I'm always looking for dinner ideas I can throw together as quickly as possible, and ideally with one hand (the other one is usually accommodating a child on my hip). This coconut cashew stir fry takes about 10 minutes to prep, and only 15 more to cook.
It's also gluten-free, dairy-free, and low-carb and keto friendly.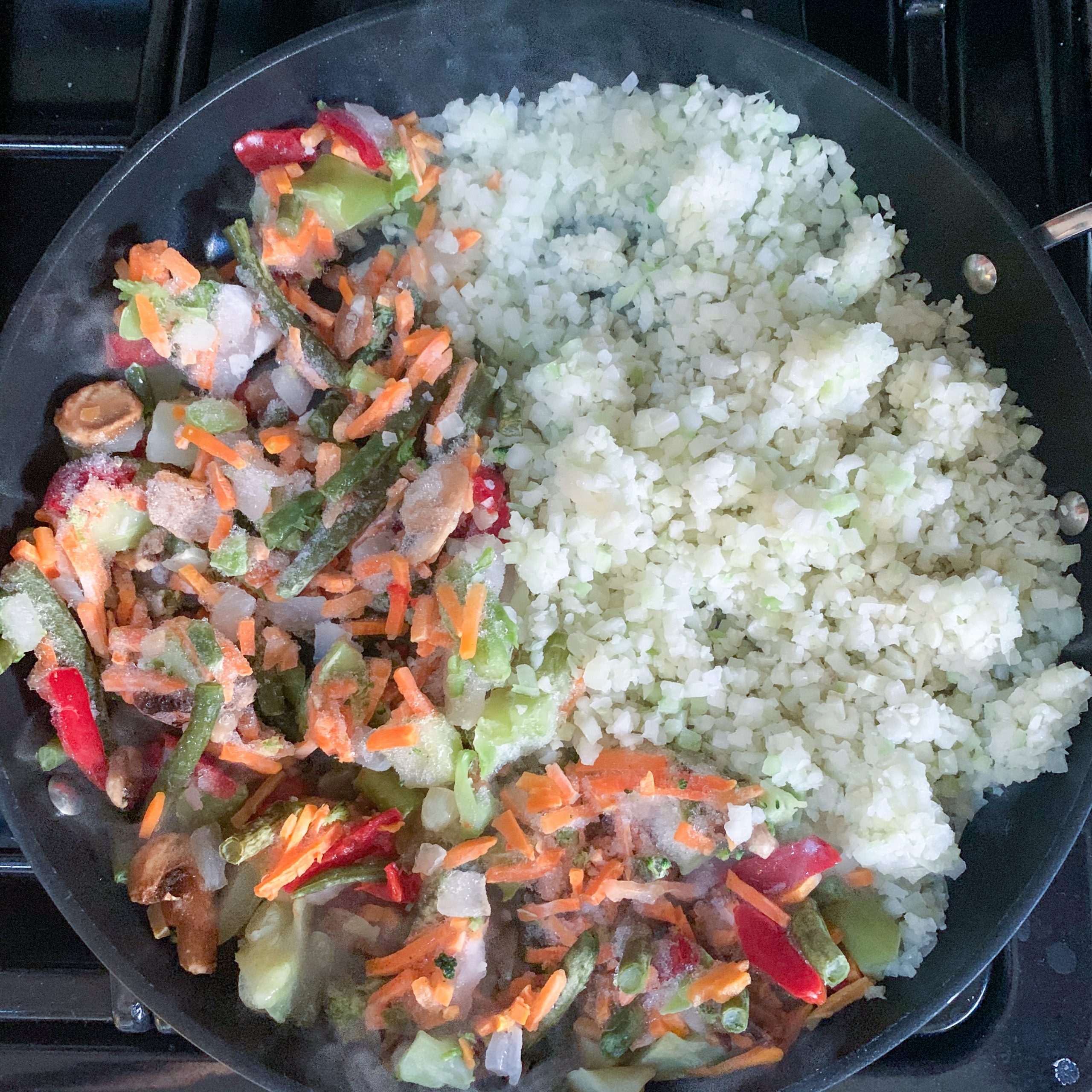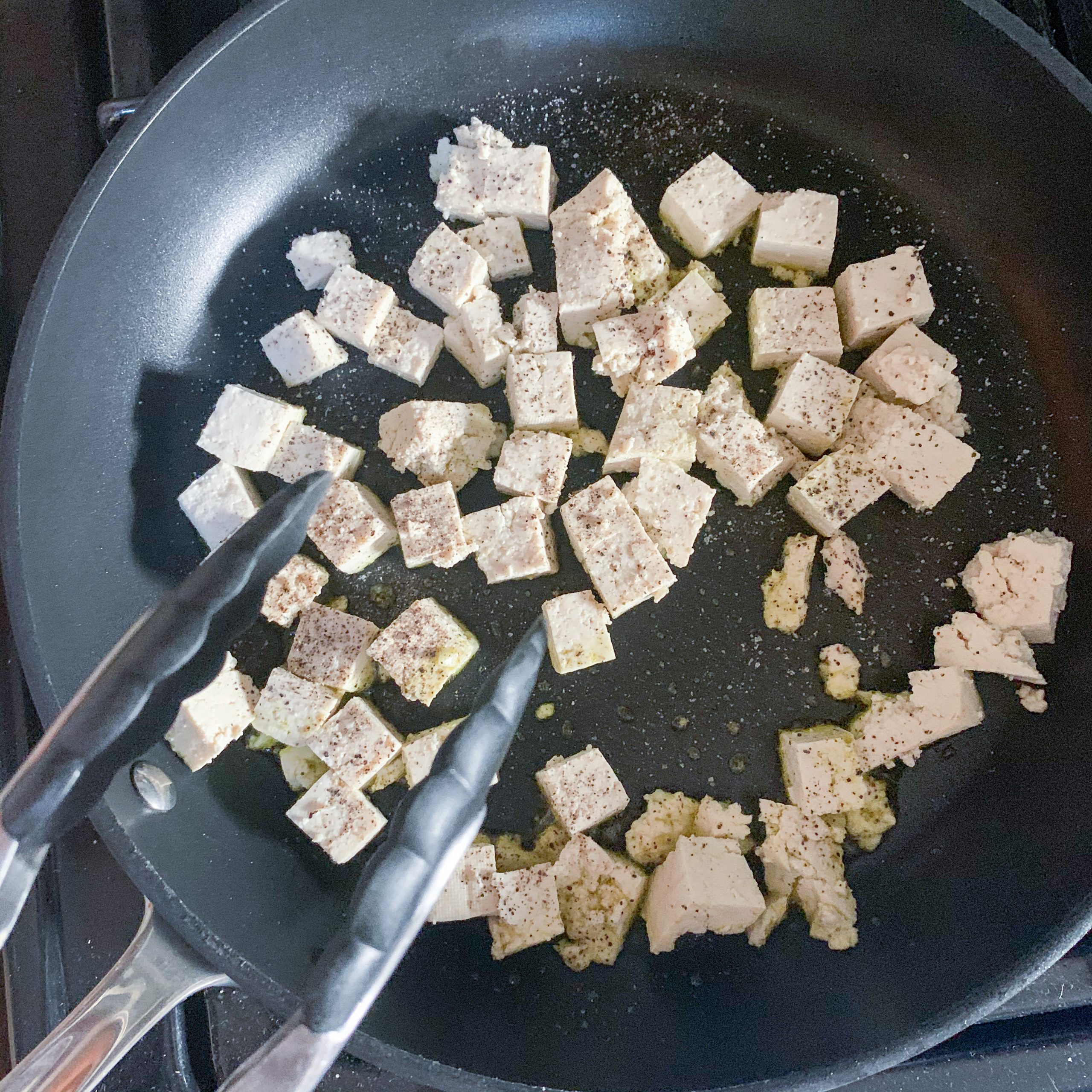 You can toss in whatever vegetables or protein you have on hand. I always keep my freezer stocked with organic frozen vegetables. No rinsing or cutting required. They cook up faster, and they're cheaper! I made this one with one of the stir fry mixes, but you can use any frozen vegetable.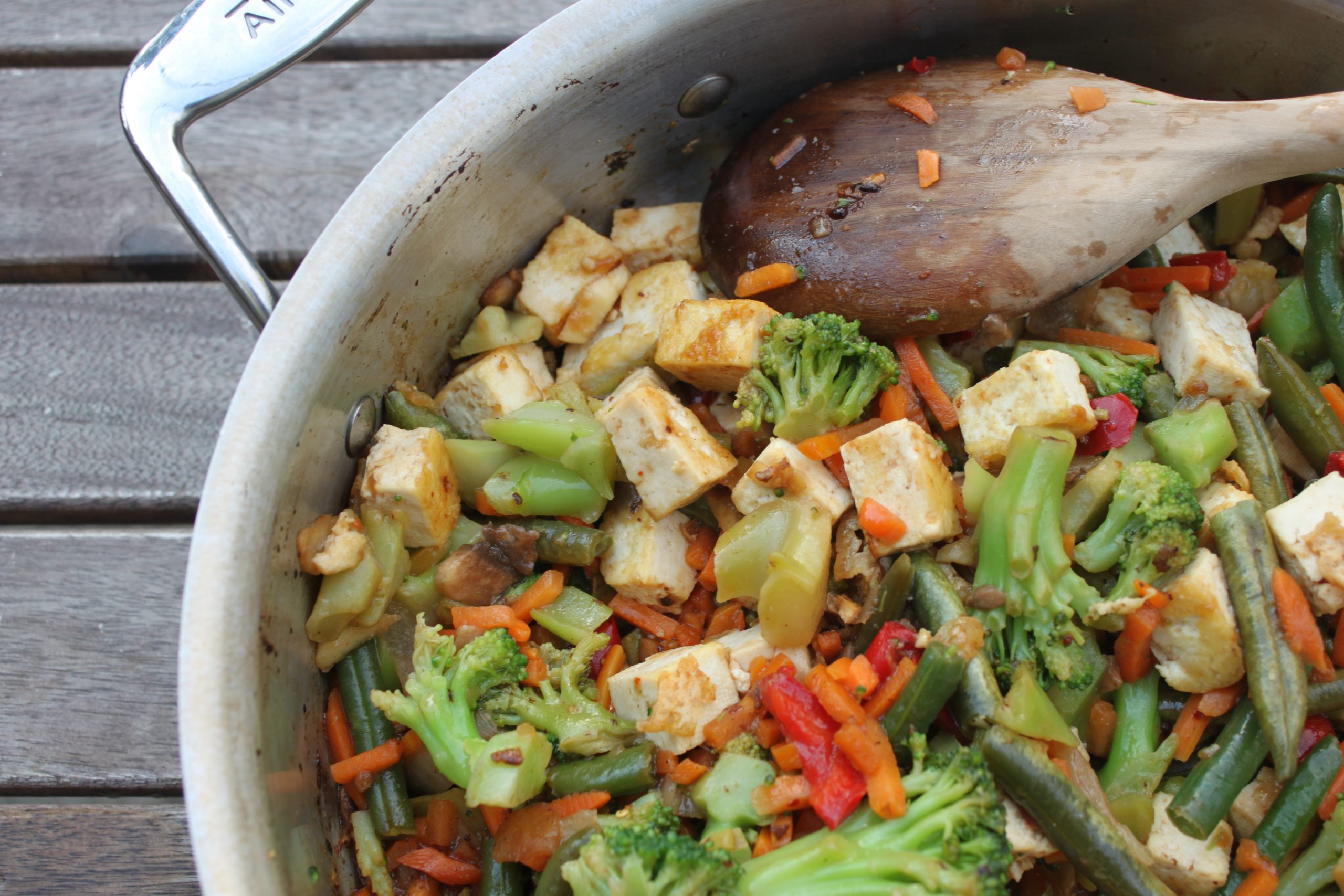 If you don't like tofu, you can sub in tempeh, shrimp, chicken, or whatever protein you like. But the tofu is so versatile and great for a meatless meal. You could also serve with a side of brown rice for extra energy.
Easy Coconut Cashew Stir Fry
A super simple and tasty stirfry recipe with lots of variations and substitutions. This is a meal you can throw together in 30 minutes when you have nothing planned.
Ingredients
1

15 oz bag

frozen vegetables (I like stir fry blend)

1

12 oz bag

frozen cauliflower rice

1

14 oz block

extra firm organic tofu

2

tbsp

sesame oil

sea salt & pepper

2

cloves

garlic

1/2

inch

ginger

1/4

cup

coconut milk

1/4

cup

tamari

1

tsp

sriracha sauce

1

tsp

arrowroot

1/4

cup

cashews

2

tbsp

coconut flakes
Instructions
Dry out the tofu by wrapping it in paper towel. If you like it extra dry and firm, you can weight it by adding a heavy book on top and letting it sit about 15 minutes. I skip this and just dry it as much as possible with paper towel. Once it reaches desired dryness, cut it up into ½ inch-wide domino slices, and then cubes.

Mince the garlic and ginger.

Lightly toast the coconut and cashews on a piece of foil in the toaster oven or broiler (about 2 mins). Set aside.

Heat a large nonstick pan over medium-high heat. Once hot, add oil, then add tofu and sauté 6-8 minutes or until tofu is golden brown. Add garlic and ginger and sauté 1 minute. Remove tofu from pan. Season with salt and pepper.

Return pan to heat. Add another swirl of oil. Sauté frozen vegetables and cauliflower, stirring continuously until soft (about 10 mins). 

In a bowl, combine coconut milk, tamari, arrowroot and sriracha, and add to pan. Return tofu to pan. Simmer until slightly thick, about 3 minutes.

Serve with a squeeze of lime and sriracha if you like heat. Top with toasted cashews and coconut.
Notes
Notes: there are plenty of variations you can take on this recipe.
If you don't have fresh garlic or ginger, use ½ tsp powdered.
If you don't like spice, skip the sriracha.
If you don't have sesame oil, use avocado oil or any high heat oil.
If you don't have cashews, try peanuts for crunch.
You can use soy or coconut aminos instead of tamari.
If you don't have arrowroot, use corn starch or skip all together – this is just meant to give it a little thickness.
You can even add an egg or two to the tofu sauté to make it like fried rice.