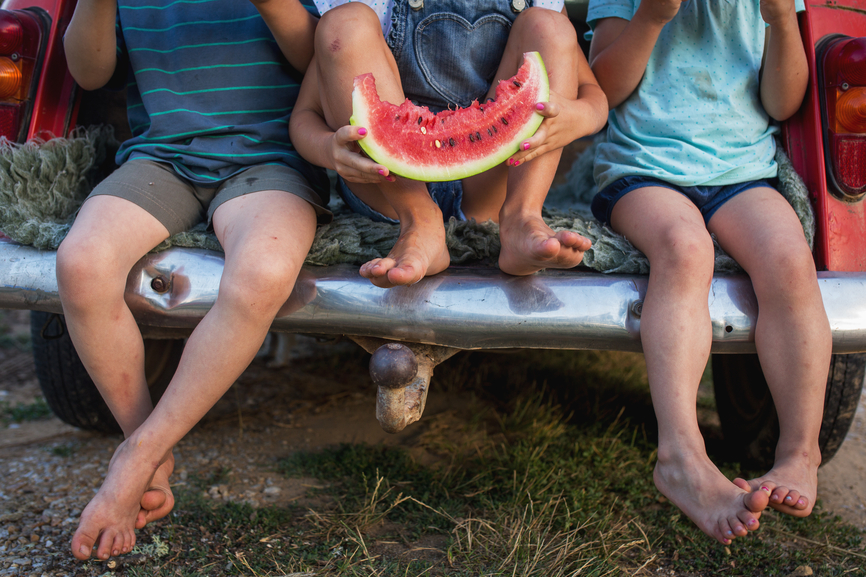 I'm a great snack packer. Always have been. My mom calls me a squirrel, because I have something stored away in my bag at all times. You never know when you'll get stranded underground in a hot subway car or stuck in traffic gridlock. And now that I have kids, I'm like the snack pack leader.
Be prepared with these suggestions, fit to conquer any craving:
crunchy veggies (for the munchies): red bell pepper sticks, Persian cucumber slices, baby carrots, cherry tomatoes. Toss them all together into a large ziploc bag for guilt-free snacking pleasure.
frozen fruits: red grapes, raspberries, blueberries. If you freeze them, they taste fancier and way more refreshing. Plus, they'll help keep the rest of your food cold. And if you struggle to keep…err…regular while traveling, the fiber in the berries will help keep traffic moving smoothly.
mixed nuts: roasted cashews, lightly salted almonds (SO happy Blue Diamond came out with these!), peanuts and pistachios are easy (and delicious!) sources of protein to keep you focused on the road.
cheese and yogurt: I love mini Babybel, mozzarella sticks, or Organic Valley Stringles (Colby cheese sticks) and Fage Total (2% or Classic) Greek yogurt. Great protein. No fuss.
peanut butter & jelly sandwiches (for the kids, of course): pick a whole grain bread of choice, consider a crunchy peanut or almond butter for added texture, and use just a light smear of preserves. It's not the world's healthiest lunch, but the protein in the PB will keep you chuggin' along, and it's a great backup to greasy rest stop offerings.
chocolate: this needs no explanation. Just make sure you only pack a little, because (let's be honest) you're gonna eat it all.
seltzer water and regular water: despite the urge to pull back on liquids to minimize stops, being dehydrated on the road is risky. With all that sitting, blood pools in your legs, putting you at risk for fainting.
Don't forget the ice pack, a plastic shopping bag for trash, and a wet paper towel in a ziploc to clean up any messes. You can also toss in a frozen teether and a mesh food pouch if there's a baby on board.
Can't trust yourself to manage your munchies? With veggies and berries, you can pretty much eat without guilt, but things like nuts can quickly get outta hand. Pack them in snack-sized baggies and allow yourself to enjoy just one. And obviously toss in some Nourish Snacks — they're already portion-controlled! I'm absolutely loving Mocha-mazing these days – dark chocolate covered almonds and mocha granola (mmmm). Safe travels!