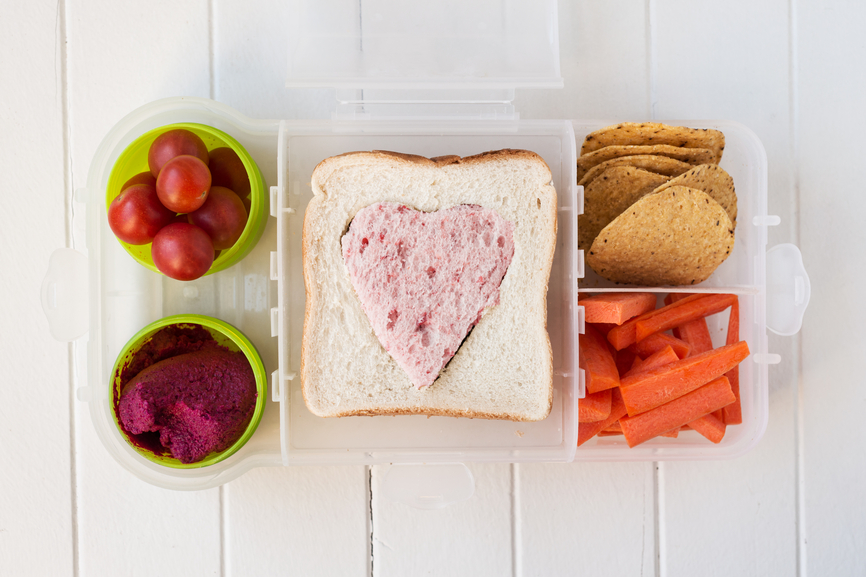 If your child is like mine, they're more likely to taste something if it looks cool and is fun to eat. Joaquin is a bit of a grazer and prefers to eat things that are bite-sized, and since he's 2 1/2 it's all about him being in control. So I tend to do a lot of mini containers that he gets to choose in the order he prefers, so he thinks he's the boss (and let's be honest, he kinda is).
Turkey meatballs. I'm obsessed with this recipe from Jessica Alba, which incorporates zucchini and carrot. It makes a LOT of meatballs, so I like to freeze some and add them to tomato soup or serve with a pasta. If you have time (and patience) you can even roll them super small so your kids can eat them like popcorn.
Sunbutter & jelly sandwiches. Many schools are now nut-free, but luckily sesame, soy and sunflower seed butters are safe alternatives to the beloved peanut butter. I prefer to steer clear of soy because of the potential hormone implications, and sesame (tahini) tastes nothing like PB. Since sunflower seeds are a little, shall we say "earthy" tasting, I recommend adding a spoonful or two of sweetener to your jar or buying one that's already lightly sweetened, like this one from Once Again.
Cookie cutter sandwiches. Because it's more fun when you can play with your food (this puzzle cutter is adorable)… start with whole grain bread, include some protein like turkey, chicken, hummus, tuna or egg salad, add a slice of cheese, sliced avocado or light mayo, and mustard.
Pasta salad. Use a sturdy noodle like rotini. Add pesto and grilled chicken, or keep it fresh and light with olive oil, peas, feta cheese, and tomatoes. Add some whole grain crackers for crunch. I love these whole grain crackers from Van's, which also happen to be gluten-free. http://www.vansfoods.com/our-products-crackers
Tuna noodle salad. I like to use elbow macaroni and add tuna, mayo (or avocado mayo), celery, salt & pepper. Use chunk light tuna instead of albacore, since it's lower in mercury. Serve with a side of pickle spears or carrot sticks for crunch.
Eggs! They're a nutrient-packed source of protein which gives your kids brain power. You can do hard-boiled, omelets, or quiche. This frittata recipe is the best (for real!) and keeps in the fridge for 4+ days. Just cut into squares and serve with some fresh fruit.
Greek yogurt bar. Start with protein-rich Greek yogurt and prepare individual containers of toppings like fresh blueberries, sliced strawberries, chopped walnuts (or raw pumpkin seeds if nut-free), granola, and mini chocolate chips.
Bento box. Finger-food heaven! Get creative with whole grain crackers, red grapes, cheese cubes, bell pepper sticks, hummus, white bean dip, hardboiled eggs, pita chips, shredded chicken, guacamole, baby tomatoes, etc. Just make sure you buy one that's easy to clean, like this one from Pottery Barn.
I'd love to hear about school lunch ideas that have worked for your family!