If you're having Easter Brunch, do yourself a favor and make this frittata. I've made it only once, but it's so easy, and the feedback from my guests was "these are some of the best eggs I've ever tasted." It's amazing… and it's only 200 calories per serving.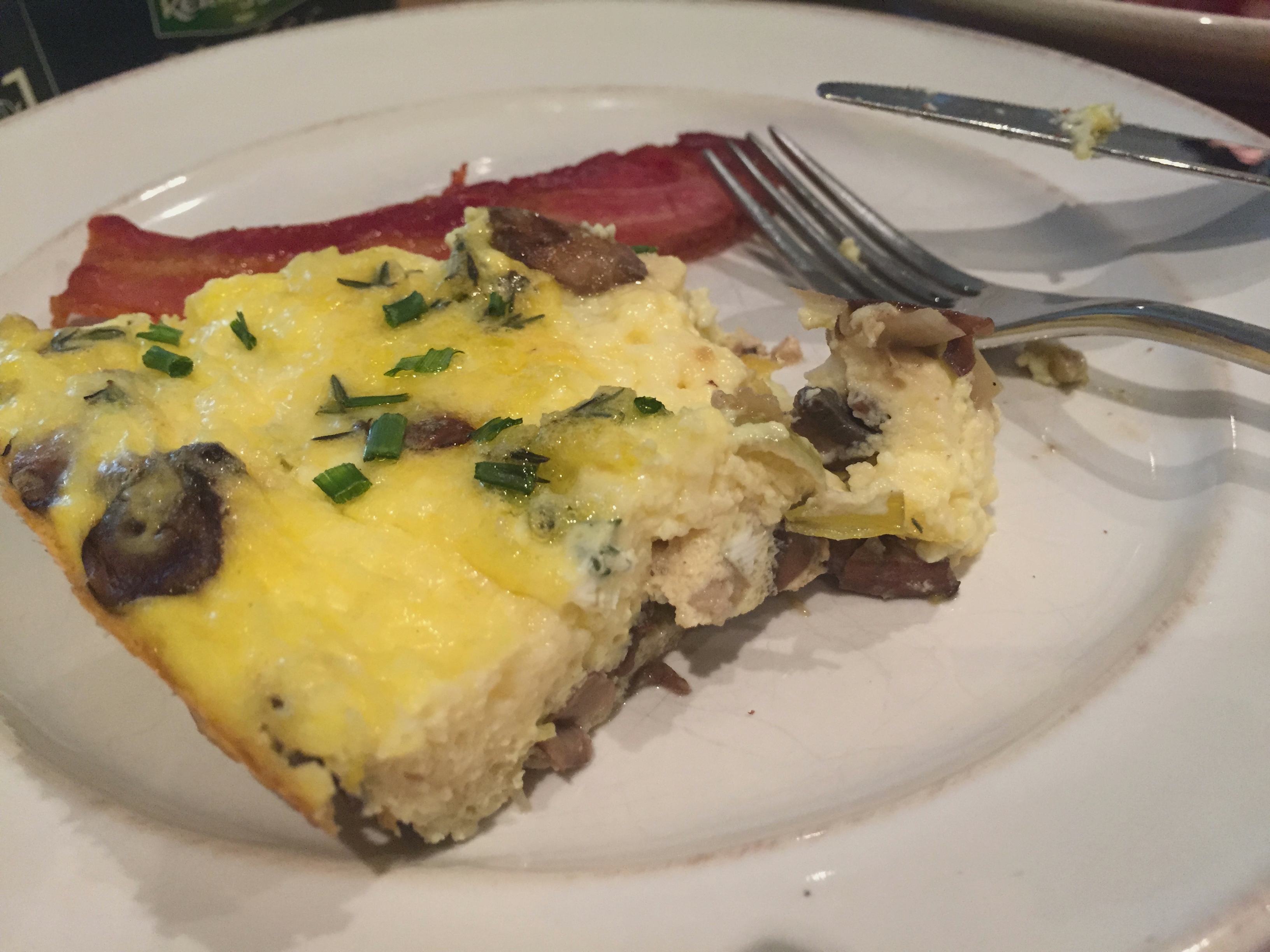 12 eggs
½ cup sour cream (full fat)
1 package mushrooms (oyster, cremini or whatever you like)
2 large leeks
6 oz fontina cheese
3-4 sprigs of fresh thyme
1 small bunch fresh chives
I recommend cutting the veggies & herbs, shredding the cheese, and mixing the eggs/sour cream the night before. Keep it all in the fridge.
In a large bowl, blend the eggs with ½ cup sour cream. Add 2 big pinches salt and the thyme. Set aside and allow it to reach room temperature.
Preheat oven to 350. Remove stem and dark green tops of leeks leaving only the white an pale green section, cut in half lengthwise. Slice leeks into thin semicircles. Finely chop mushrooms. Shred the fontina. Remove thyme leaves from stems. Mince the chives.
Heat a cast iron skillet on medium/med-high, heat 1 tbsp olive oil for 1 minute, add leeks, cook 5 minutes, stirring occasionally. Add mushrooms, cook another 5 mins or until liquid is absorbed. Add a little salt and spread veggies out evenly in pan. (It will look like a lot). Add ½ the cheese evenly over the top.
Very slowly add the egg/sour cream mixture, being careful not to disturb the veggies. Add a little drizzle of olive oil over frittata. Sprinkle on remaining cheese. Keep it on the heat about 3-5 minutes, or until sides start to look a little done. Put entire skillet into the oven about 15-25 minutes or until it looks nearly set, but NOT brown. (It will continue to cook when you take it out.) Top with minced chives. Tastes great fresh from the oven, room temp or cold!
(All the credit goes to my brother-in-law, Gustavo Marcus for this recipe. He's one of the most amazing cooks I know!)