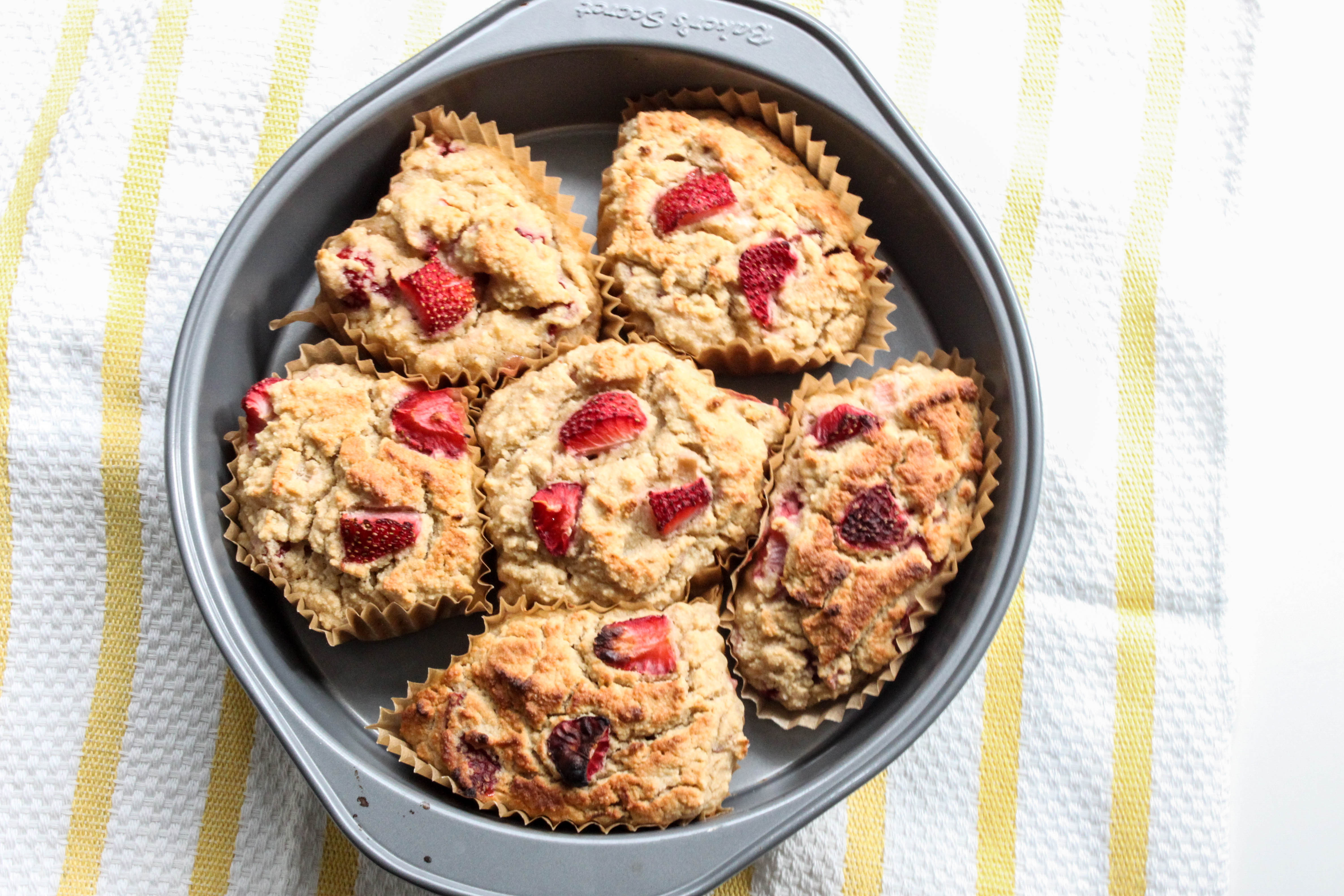 I'm pretty sure if I entered these into a baking contest they would win. I'm not much of a baker—savory's more my jam. And with all the sugar my kids are bombarded with on a daily basis, I'm usually looking for ways to slash anything sweet (yay, Mom).
These muffins have just the right hint of sweetness from maple syrup and a dash of brown sugar. So if you're looking for "might as well call it cake" muffins, look on. I used a combo of 4 flours made from whole grains and nuts: oat, almond, coconut, and sorghum. All happen to be gluten free (bonus!).
Each muffin is just over 200 calories and comes with 5 grams of protein and a decent 5 grams of fiber thanks to all those whole grains, nuts and fresh fruit.
They're honestly some of the best muffins I've ever tasted. We've nearly gobbled up all 14 in a matter of 2 days. (Thank you, Gluten Free Goddess for the original inspiration!)
Recipe
(Yield: 14 muffins)
Ingredients
Gluten-Free Blend:
1 cup oat flour
½ cup almond flour
½ cup coconut flour
½ cup sorghum flour
1 tsp tapioca starch
2 tbsp brown sugar
2 tsp baking soda
½ tsp sea salt
¼ tsp nutmeg
2 large eggs
¼ cup olive oil
½ cup maple syrup
1 tbsp vanilla extract
1 to 1 ½ cups almond milk (vanilla unsweetened)
1 ½ cups strawberries, cut into 8ths
¾ cups rhubarb, minced
Preheat oven to 350°F. Mix all dry ingredients. Add eggs, olive oil, maple syrup and vanilla. Stir with a whisk until smooth. Slowly add almond milk until batter is thick and fluffy. Stir in strawberries and rhubarb and spoon into muffin cups. Don't smooth out the lumps!—they'll make a delicious crust. Bake 35-40 mins until inserted toothpick comes clean. Optional: Broil for 2-3 mins for toasted tops. Allow to cool 5 mins on a wire rack before devouring.