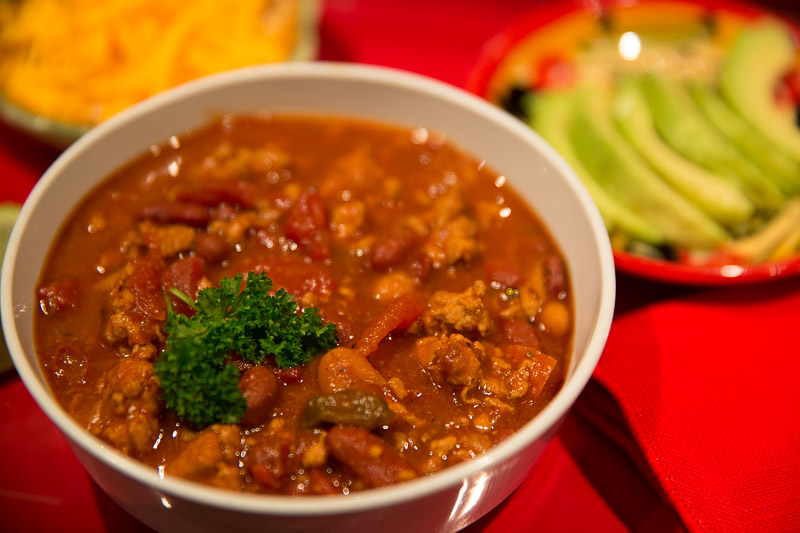 Cold weather… football season… Time to make chili!
In the wake of the bad news on beef (tear), I've revitalized an old favorite to feature only turkey — and I don't miss it even a little. About 400 calories per serving.
Spicy Turkey Chili Recipe (serves 8)
6 cloves minced garlic
1 large Spanish onion, diced
1 yellow bell pepper, diced
1 jalapeno, seeded and diced
2 lb ground turkey
2 small, 14-oz cans diced, fire roasted tomatoes (any brand)
1 large, 28-oz can diced tomatoes (I love San Marzano)
3 cans beans (I use 1 can of each pinto, kidney and black beans)
1 quart low-sodium chicken broth (or use equivalent bouillon cubes)
¼ cup oat flour
2 Tbsp chili powder
1 Tbsp sea salt
1 tsp dried oregano
1 tsp garlic powder
1 dash of sugar
1 tsp cayenne pepper (optional, only if you like it spicy)
In a large pot, sauté garlic, onions, bell pepper and jalapeno over medium heat 5-10 mins or until carmelized. Add turkey, stirring until lightly browned. In a small bowl, combine oat flour with ½ cup warm water until thickened to a paste. Add the flour paste and all the spices to the pot. Bring to a boil, cover and simmer over low heat at least 1 hour. Top with grated cheddar, avocado, fresh lime and cilantro. Enjoy with a flavored seltzer or your favorite ale.