This lasagna recipe doesn't fit in with my typical "30 minutes or less" mantra, but if you have two hours on a weekend, this is the recipe that keeps on giving all week.
Most American lasagnas tend to be very cheesy (ricotta, Parmesan, mozzarella, etc). While that's insanely good, the cheese might not agree with everyone, and béchamel lasagnas are IMO so much better!
I've personally been gluten and dairy-free for about six months in my quest to strengthen my immune system. Both gluten and dairy can cause "leaky gut," which triggers the immune system and leads to nonspecific inflammation and potential tissue damage in various parts of the body. The details of this process are not meant for this post, but suffice it to say that there are legitimate, life-changing reasons for some people to cut out gluten and dairy completely.
Funny enough, I received the original recipe in a chain email. You know, where you send out one recipe and you're supposed to receive like 97 in return. I got 5, and this one was the only keeper.
My husband, Javier, has been begging me for lasagna for approximately 9 years, so I made the dairy-filled version in an act of non-judgmental love. After seeing him gush over it, I was determined to reverse engineer it so I could taste what all the fuss was about.
This version is made with oat milk, and I have to say, I was quite impressed with the creaminess and depth of flavor. If you enjoy this recipe, please leave me a comment and let me know what you think!
By the way, if you're NOT dairy-free or you just want the classic version, you can absolutely make this with whole milk instead of oat milk and butter instead of avocado oil.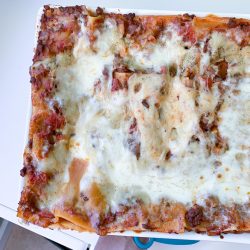 Lasagna Bolognese (gluten free, dairy free)
A tasty, creamy comfort dish that makes great leftovers.
Ingredients
Meat Sauce
1

large yellow onion

2

carrots

8

oz

mushrooms (any kind)

1/2

yellow bell pepper

4

garlic cloves

2

tbsp

avocado oil

1/2

cup

red wine

1-2

tsp

sea salt

1/2-1

tsp

black pepper

1

lb

ground beef, pork, or meat substitute

1

can

tomato sauce (16 oz)

1

can

diced tomatoes (16 oz)

2

cups

water

2

boxes

gluten free no-boil lasagna noodles (I used Barilla)
Bechamel
3

tbsp

avocado oil

3

tbsp

all-purpose gluten free flour (I used Bob's Red Mill)

2.5

cups

plain unsweetened oat milk (or soy milk)

1/2

tsp

sea salt

1/4

tsp

black pepper
Instructions
For the sauce:
Dice the onions, carrots, mushrooms, bell pepper. Mince the garlic.

Heat large pot or Dutch oven to medium high. Add avocado oil. Sauté onion about 5 minutes. Add carrots, mushrooms and bell pepper and saute about 5 minutes, stirring occasionally. Add garlic, saute 1 minute. Reduce heat to medium low. Add red wine and de-glaze by simmering until liquid is mostly cooked off. Add ½ tsp salt and ¼ tsp black pepper.

Add meat and cook about 3 minutes, just to lightly brown it. Add tomato sauce, tomatoes and water. Gently simmer 1 hour, with the lid off, stirring occasionally.

Taste the sauce. Add salt and pepper to taste. (I added about 1-2 tsp salt and ½ tsp more of black pepper. Preheat the oven to 375 degrees while making the béchamel.)
For the béchamel:
Heat oil to medium-high. Add flour and whisk. Add half the oat milk, whisk. Add remaining oat milk. Add salt and pepper. Whisk constantly until slightly thick. Turn off the heat. Taste it and adjust seasoning as needed.
Assemble the lasagna:
Begin layering a 9x12 casserole dish as follows: béchamel, noodles, meat sauce, béchamel, noodles, meat sauce, noodles, meat sauce, béchamel.

Note: use about 1/3 of the béchamel per layer and 6 slightly overlapping noodles per layer. I like to add a little sauce between the overlapping parts, otherwise your noodles might come out a bit dry. I used a total of 18 noodles, so I had most of the 2nd package leftover. Optional: you could top it with vegan "mozzarella" cheese if you're into the cheesiness.

Insert toothpicks to keep the top from sticking to the foil. Cover with foil and bake at 375 for 30 mins. Allow to cool 10 minutes and enjoy!