This lentil soup has been on repeat for the last few months, varying a little each time. It's so easy to prepare. Just chop a few veggies, saute, and add lentils and spices. After 20 minutes, it's perfectly soft and ready to eat.

Lentils are a fantastic source of protein and fiber, and they're easier to digest than most beans. If you're new to lentils though, you should ease into them. Eat a small portion before diving into a big bowl. As your gut bacteria adjust, your body will get used to digesting them over time.
I soak my lentils 1-2 days so they sprout. This step is totally optional, but it does eliminate most of the lectins, which can cause inflammation for some people (especially those with autoimmune conditions). 
The basil pesto is completely optional, but I think it helps round out the dish. Not only that, but the raw garlic in the pesto makes it a nutritionally rich and flavor-packed dollop. Garlic is a rich source of the organic sulfur compound allicin, which boosts immunity, fights inflammation, and helps reduce blood pressure.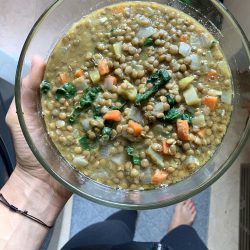 Classic Lentil Soup with Basil Pesto
Flavor packed, gluten free, dairy free, antiinflammatory
Ingredients
1 1/2

cups

French lentils (green)

1

yellow onion

2

celery stalks

2

carrots

4

cloves

garlic

1

tbsp

fresh thyme leaves (stems removed)

4

cups

water (or veg broth)

1

tsp

sea salt

1/2

tsp

black pepper

1

dash

harissa or cayenne pepper (optional for spice)

juice of 1/2 lemon
Basil Pesto
1

bunch

basil, leaves only (about 2 cups)

4

cloves

garlic

1/4

cup

walnuts

3

tbsp

nutritional yeast

1/2

lemon, juiced

1/4

cup

water

3

tbsp

extra virgin olive oil

1/4

tsp

sea salt
Instructions
Finely chop all veggies. (If making pesto, now is the time to mince your garlic and set it aside so the allicin has time to activate.)

Heat a big soup pot over med-high. Add a swirl of avocado oil. Sauté onion, celery and carrot about 5 minutes.

Add garlic and sauté 1 minute.

Add lentils, broth, thyme, salt & pepper. Simmer 20 mins.

If making pesto, simply pulse all ingredients until slightly smooth.

Optional: To soup pot, add torn kale, a big squeeze of lemon, and any spice (harissa, cayenne) and turn off the heat. Top each bowl with a spoonful of pesto.
Notes
The lentil soup can be stored in the refrigerator for about 1 week or frozen for about 1 month. Basil pesto may be stored in refrigerator for up to 1 week or frozen in ice cube trays for single servings for about 1 month.