It's been breezy and brisk in NorCal lately. This lentil soup has been on repeat for the last few months, varying a little each time. It's so easy to prepare. Just chop a few veggies, saute, and add lentils and spices. After 20 minutes, it's perfectly soft and ready to eat.

Lentils are a fantastic source of protein and fiber, and they're easier to digest than most beans. If you're new to lentils though, you should ease into them. Eat a small portion before diving into a big bowl. As your gut bacteria adjust, your body will get used to digesting them over time.
I soak my lentils 1-2 days so they sprout. This step is totally optional, but it does eliminate most of the lectins, which can cause inflammation for some people.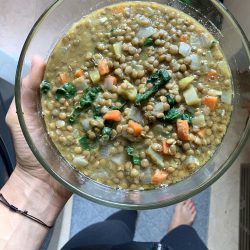 Classic Lentil Soup
Ingredients
1 1/2

cups

French lentils (green)

1

yellow onion

2

celery stalks

2

carrots

4

cloves

garlic

1

tbsp

fresh thyme leaves (stems removed)

4

cups

water (or veg broth)

1

tsp

sea salt

1/2

tsp

black pepper

1

dash

cayenne pepper (optional)

juice of 1/2 lemon
Instructions
Heat a big soup pot over med-high. Add a swirl of avocado oil. Sauté onion, celery and carrot about 5 minutes.

Add garlic and sauté 1 minute.

Add lentils, broth and thyme. Simmer 20 mins.

Add salt and pepper. Optional: add torn kale and a big squeeze of lemon, and turn off the heat.