It's been cold, damp and dreary in New York for the past few days. My parents were in town to meet our newest addition, Miguel, and we overdid it eating out the first few nights. (Check out The Heyward next time you're in Williamsburg — delicious Southern food.) So we were craving some warm, comforting, home cooking.
My mom and I combined ideas (starting with one we found on The Food Network), improvised a little based on ingredients we had on hand, and somehow came out with this stellar chili recipe that we'll be holding onto for years.
Add a little Marlow and Daughters sourdough bread with Irish butter, aged cheddar, and fresh cilantro and sour cream and you've got a hearty meal that'll leave little for leftovers. Good thing I wrote the recipe below for 8 — plenty to freeze for the next blizzard!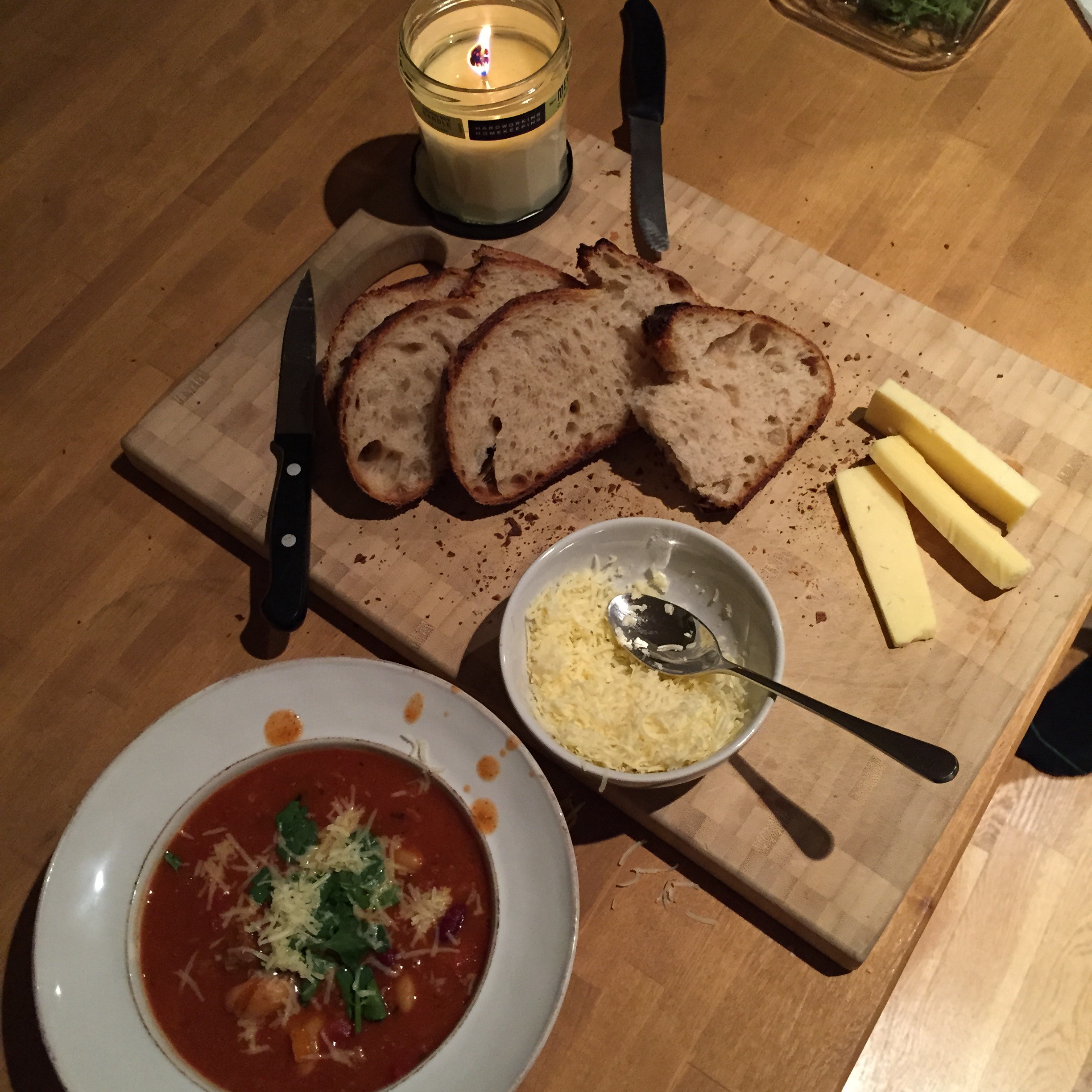 Brooklyn Chili Recipe (serves 8)
6 cloves minced garlic
1 large Spanish onion, diced
1 yellow bell pepper, diced
1 lb ground turkey
1 lb grass-fed beef
2 small, 14-oz cans diced, fire roasted tomatoes (any brand)
1 large, 28-oz can diced tomatoes (I HIGHLY recommend San Marzano)
1 can cannellini beans
1 can red kidney beans
1 quart low-sodium chicken broth (or use equivalent bouillon cubes)
¼ cup oat flour
2 Tbsp chili powder
1 Tbsp sea salt
1 tsp dried oregano
1 tsp garlic powder
1 dash of sugar
1 tsp cayenne pepper (optional, only if you like it spicy)

In a large pot, sauté garlic, onions and pepper over medium heat until softened. Add meat, stirring until browned. In a small bowl, combine oat flour with ½ cup warm water until thickened to a paste. Add the flour paste and all other ingredients to the pot. Simmer over low heat at least 1 hour. Add more cayenne after cooking, if desired, to your taste (be careful, a little goes a long way!). Top with grated cheddar, sour cream and cilantro. Serve with fresh sourdough bread and butter, and either a sparkling water or a refreshing beer.