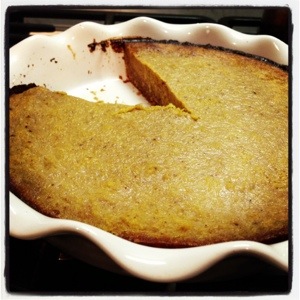 My favorite thing about fall is the food! And pumpkin pie is my favorite dessert, second only to anything chocolate. I altered the proportions a bit and added my secret ingredient: lemon zest (I stole the idea from Mark Bittman). Let me know what you think!
For the crust:
12 graham crackers, broken
2 Tbsp sugar (or maple syrup)
4 Tbsp coconut oil
Preheat oven to 350. In a food processor, grind the graham crackers and sugar to a fine consistency. Slowly add coconut oil and pulse to coat. Press mixture evenly into bottom and sides of pie pan. Bake for 8-10 minutes or until lightly toasted. Allow to cool.
For the filling:
1/2 cup sugar (or honey, maple syrup, or 1/4 agave)
2 eggs
1/2 tsp ground cinnamon
1/4 tsp ground ginger
1/8 tsp ground nutmeg
1/8 tsp ground cloves
1/2 tsp lemon zest
pinch of salt
1 can pumpkin puree
1 cup unsweetened vanilla almond milk
Turn heat on oven to 375. In a large bowl, mix sugar and eggs with a hand mixer. Add spices and mix. Add pumpkin puree, mix. Add milk, mix.
Slowly add filling to baked crust. Bake 30-50 minutes until the center jiggles slightly but firmly.